Curbside Pickup/Book Drop Returns are Back!
We have resumed these services at our newly renovated home at 54 Olmsted Rd. See our Welcome Back page for a more comprehensive look at the new Library. Here's what you need to know: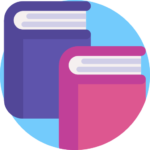 What should I do about my holds?
Patrons can once again place holds and borrow from our full and expanded on-site collection at 54 Olmsted Rd. Once you have received a notification that your holds are available for pick up, reserve your time slot here!
Can I get books again?
We are now open for book returns and contactless pickup at 54 Olmsted Rd! To provide for proper social distancing, patrons may reserve hour-long time slots to pick up their materials via the Library's website and we will require only a three-hour advance notice for reservations (allowing for same day hold and pick up in many cases).
The Library hours for holds pickup and book returns are:
Monday 9:00AM – 7:00PM
Tuesday – Friday: 9:00AM – 5:00PM
Saturday 10:00 AM – 4:00 PM
Sunday: Closed
Staff will be available by phone during these business hours and the community can continue to message the Library for reader advisory, reference services and general help at any time via email.