We are excited to resume limited services at 54 Olmsted! After many years of fundraising, planning and construction, the newly transformed building will advance the library as an intellectual resource and dynamic community center for generations to come.
From the redesigned children's space and programming room to bright, open reading areas to a dedicated teen space, we are truly excited for how the renovated library will support our mission:
"To encourage the joy of reading, the exploration of ideas, and the pursuit of lifelong learning for the children and adults of our community."
"With its thoughtful redesign, the Scarsdale Public Library promises to be an inviting place for everyone in our community to come together to learn, connect, create, exchange ideas, and pursue lifelong learning for generations to come."
Margot Milberg, Library Board President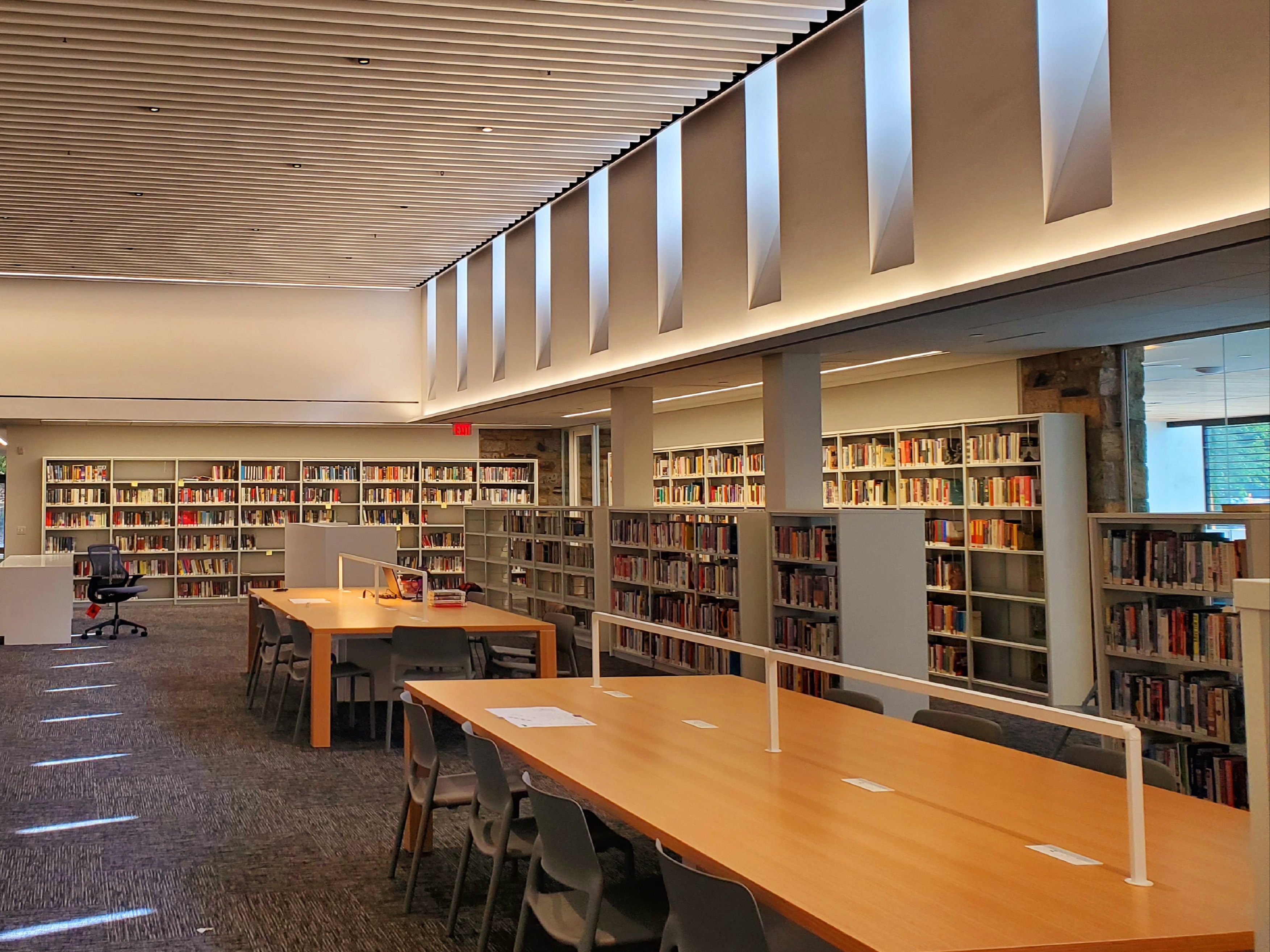 MAIN READING ROOM
Bright and spacious with large tables and quiet cubicles, the reading room is ideal for reading and working. With new shelving to enhance the browsing experience, our extensive collection is easily accessible.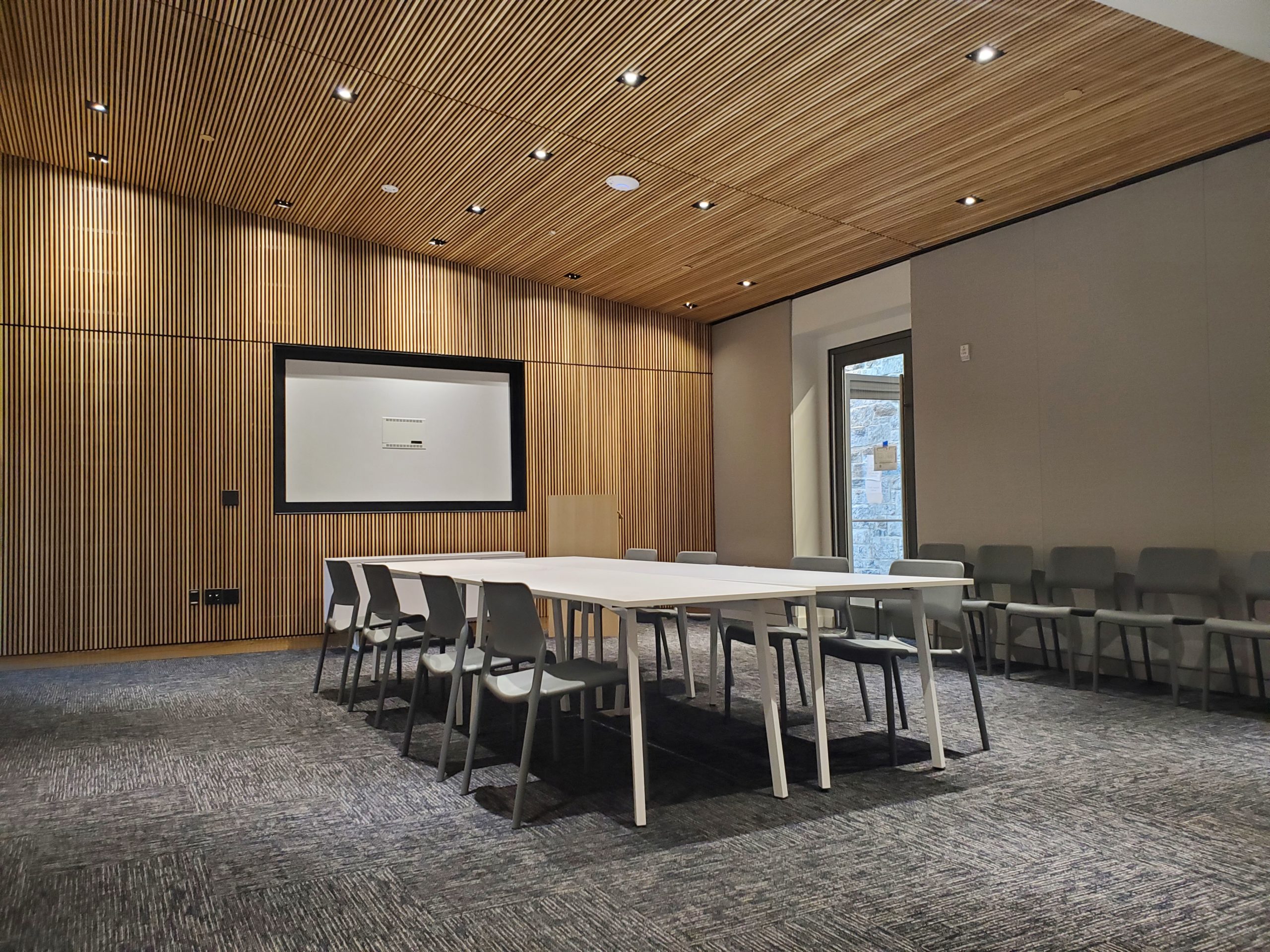 SCOTT ROOM & PROGRAM SPACES
Our welcoming program spaces with upgraded audio visual systems and technology are perfect for hosting community events. The flexible spaces are adaptable for a wide variety of programs.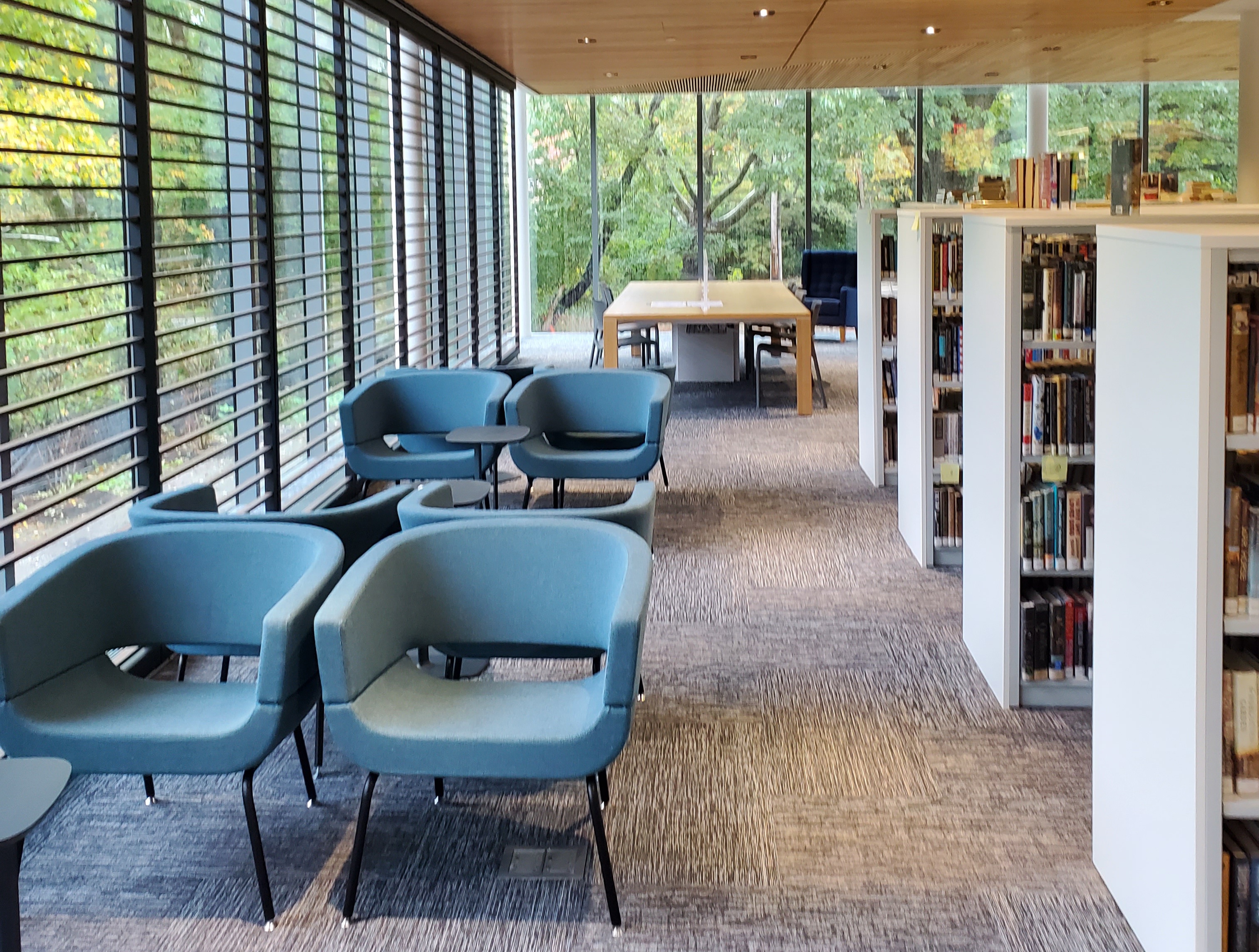 READING GALLERY
Glass enclosed, new comfy chairs, and a great view of the library's grounds, it is truly a serene space to read in. A hint of the old library's reading area remains with the exposed, original exterior stone walls still in place.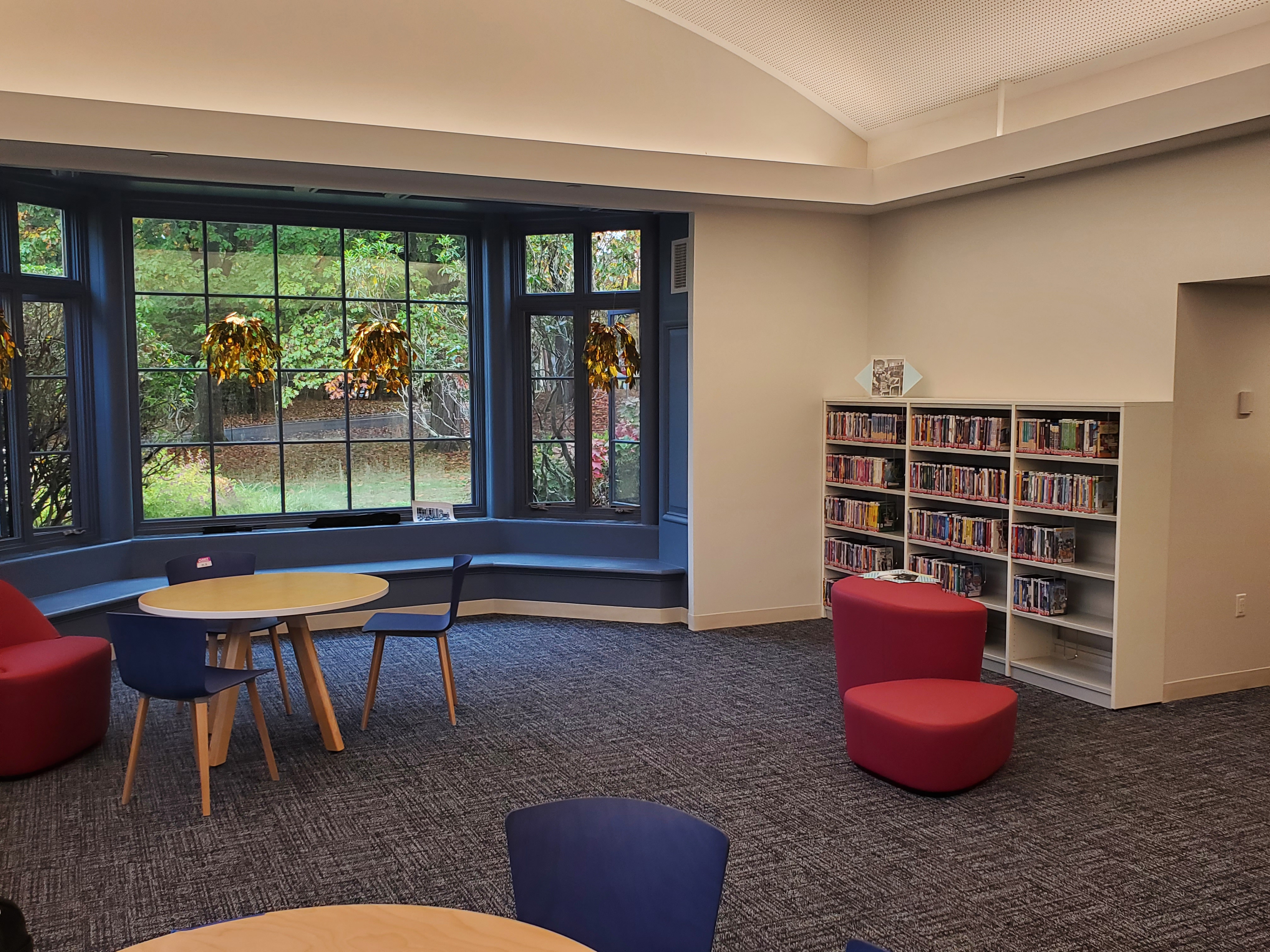 CHILDREN'S ROOM
Upgraded and expanded children's area is full of books, nooks, comfortable chairs, accessible bookshelves and more! We have an extensive collection of titles for all ages and reading levels!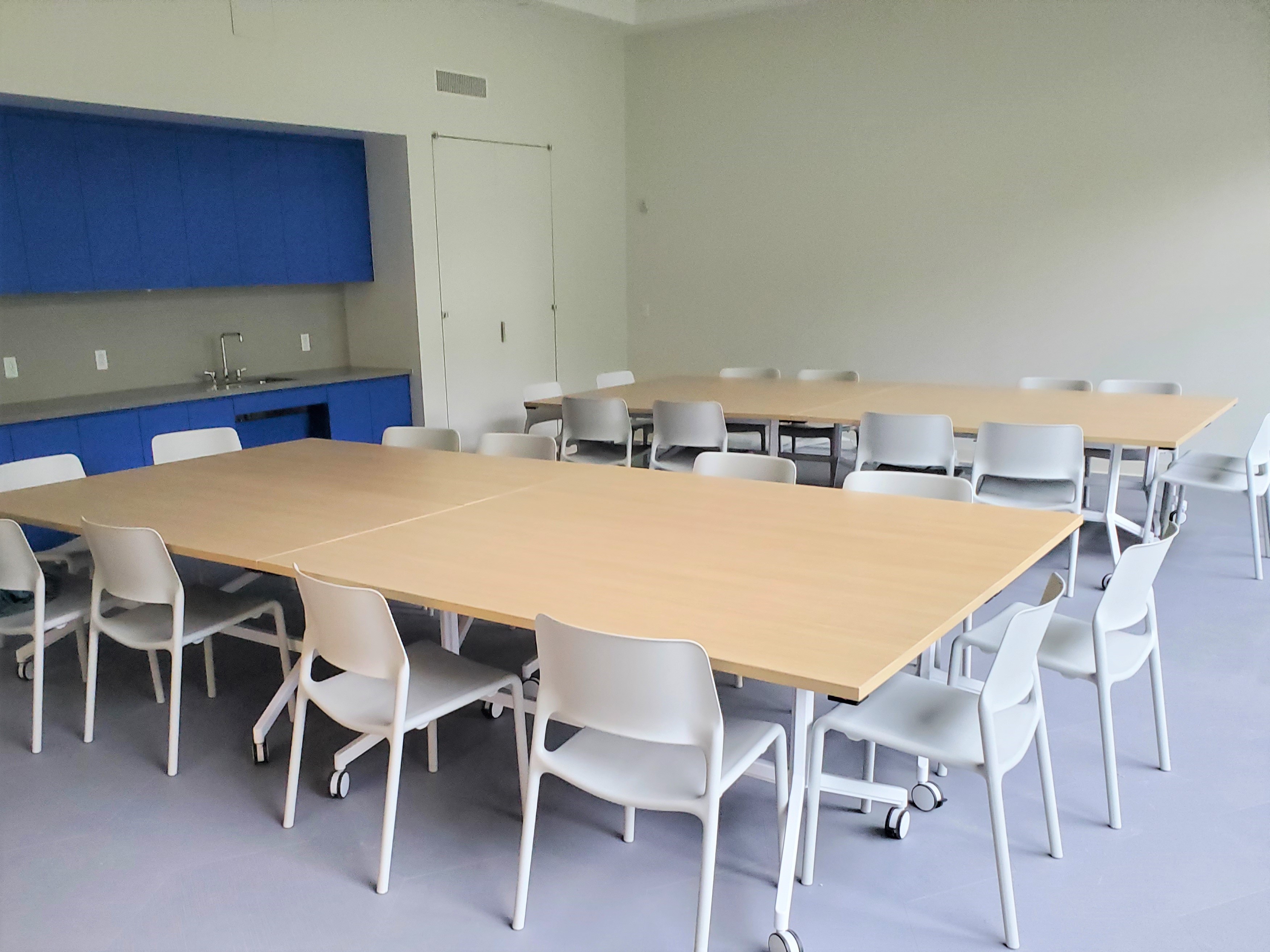 CHILDREN'S PROGRAM ROOM
Our mess-friendly program room will allow us to host a variety of innovative educational programs. Additionally, the space's accessibility is beneficial to all children.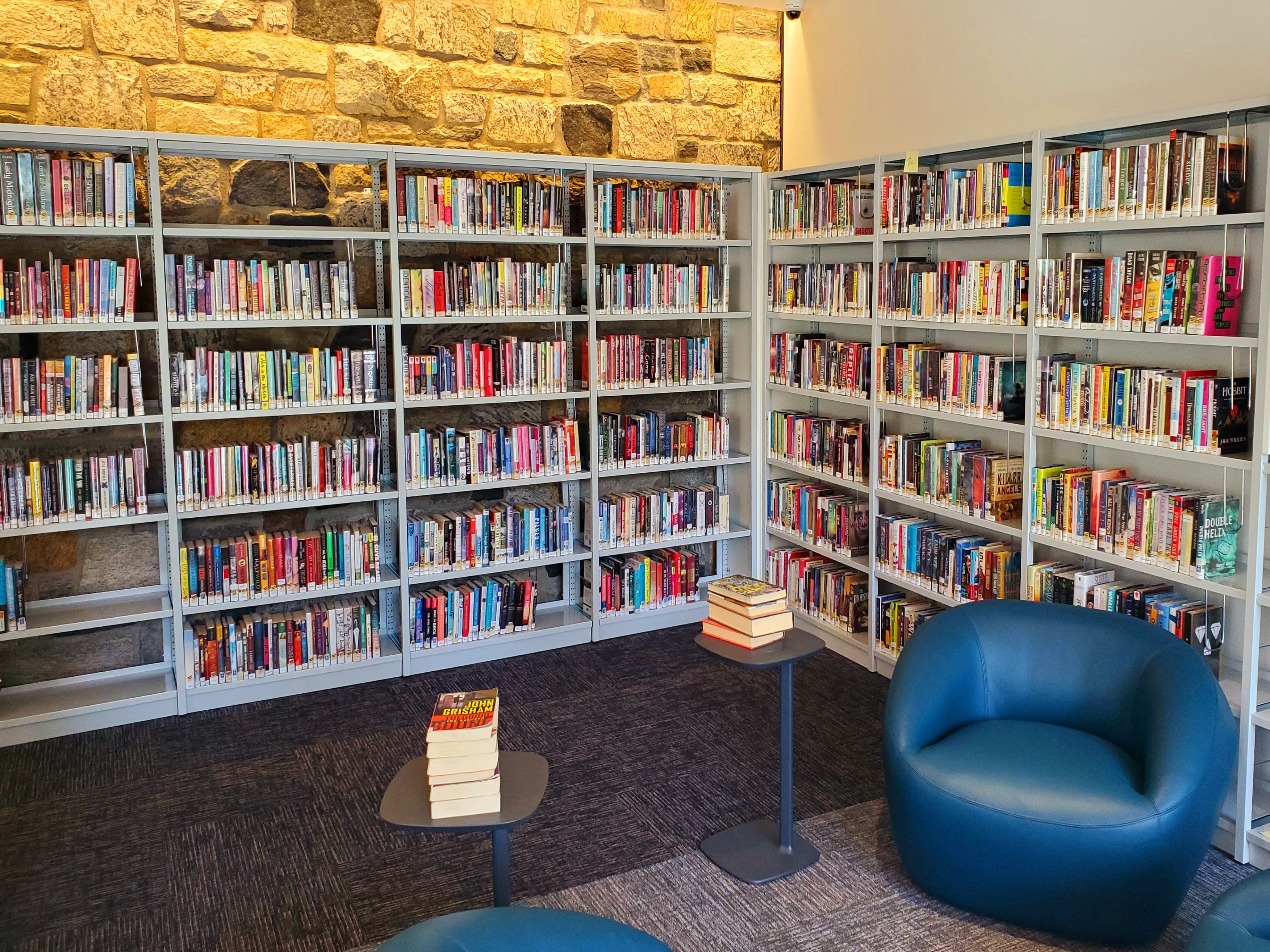 TEEN SPACE
This dedicated space was designed specifically with teens in mind. With super comfy chairs and expanded young adult collection, it is an ideal space to read, work on school projects or just hang out!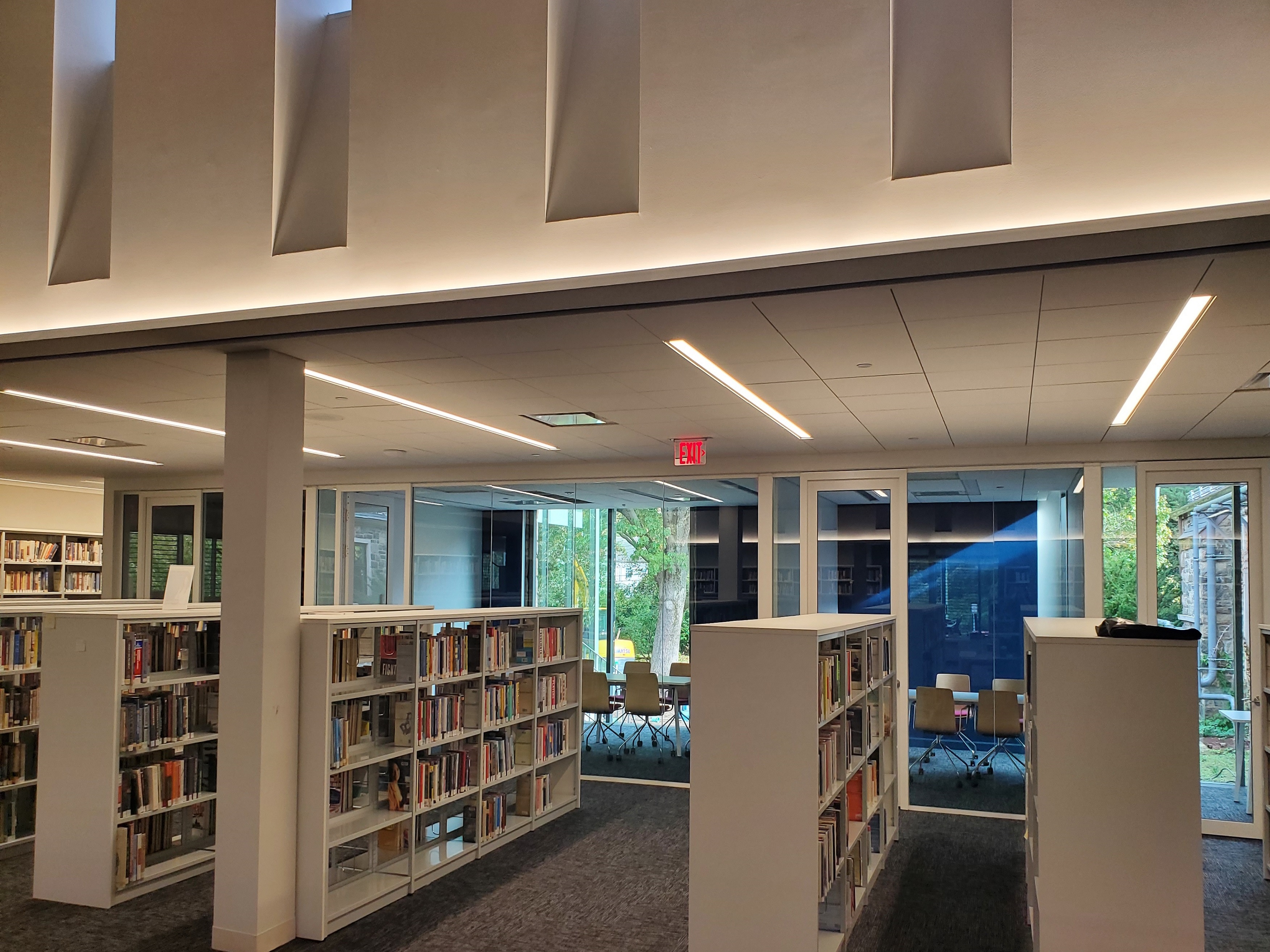 CONFERENCE ROOMS
Our new meeting rooms are ideal for small groups. Modernized to support the latest technologies and well lit, these private areas are set up perfectly for collaborative work and project needs.
CAFE & LOBBY
Open, bright, and welcoming, our new lobby takes inspiration from Apple's iconic knowledge bars. With both a café to grab a bite to eat and lots of seating, it is a great place to connect.
COMPUTER & BUSINESS CENTER
User friendly and convenient, we provide equipment that one would find at a copy center or coworking space. We are here to support the entrepreneurs and small businesses of Scarsdale!
The reimagined Scarsdale Public Library was made possible by the hard work and commitment of the Scarsdale Public Library Board of Trustees, Friends of the Scarsdale Library, Library Staff, Dattner Architects, volunteers, and, most importantly, the tremendous support of the Scarsdale community.
We want to recognize and say thank you to all those that supported and made possible the new Scarsdale Public Library!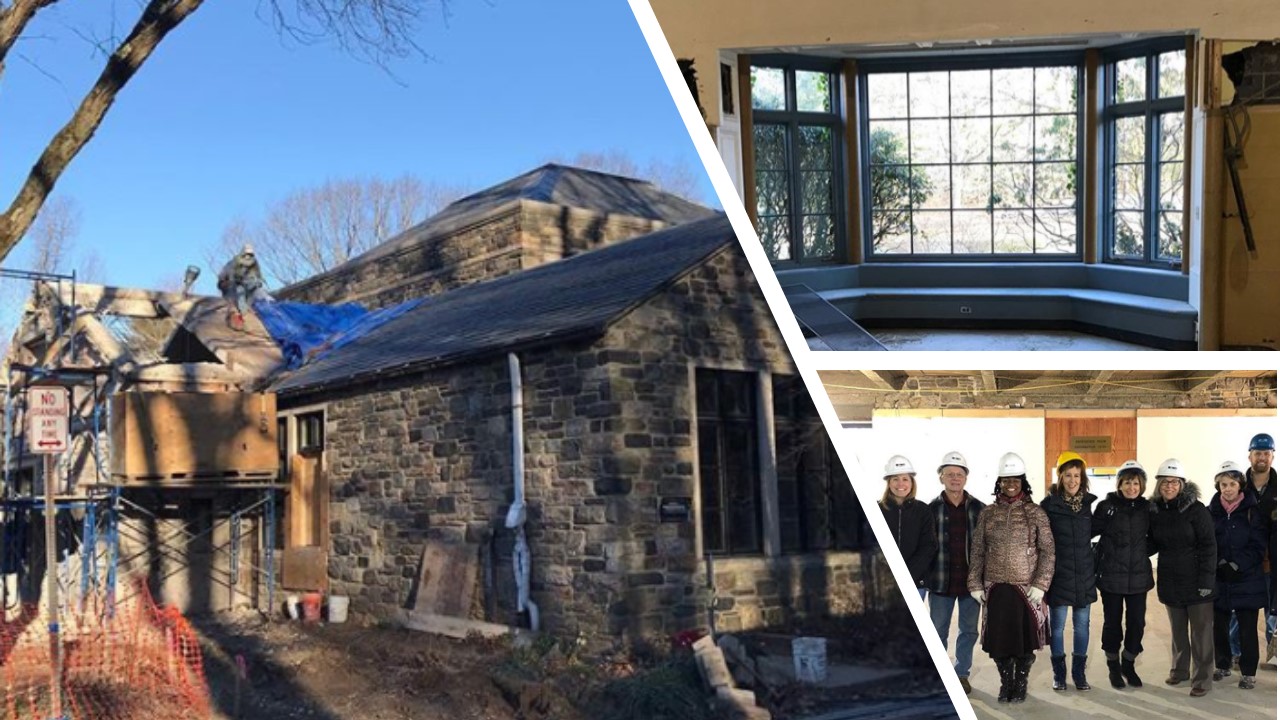 This would not have been possible without the support and extraordinary generosity of our residents and the foresight and vision of library and village leadership. The new library truly has something for everyone in our community.
Dara Gruenberg, President of FOSL and Campaign Committee Co-Chair
I want to thank my staff for their flexibility and hard work during this period. We can't wait to welcome the community back to enjoy our new and beautiful space together. It's going to be amazing!
Beth Bermel, Executive Director of the Scarsdale Public Library


REOPENING DURING COVID-19
We are taking a phased approach to our on-site services to ensure the health and safety of our patrons, staff, and community. We are excited to expand on-site browsing hours starting March 26 to the following:
Monday: 1 pm - 6 pm
Tuesday, Wednesday, Thursday, Friday:  11 am - 4 pm
Saturday: 11 am - 3pm
Patrons will be welcomed into the library on a first come, first served basis with a maximum of 25 patrons allowed at a time in the main reading area.
Appointments are required to visit the Children's Room and will be limited to Scarsdale cardholders.  Please make your reservation in advance here: https://calendly.com/scakids/children-s-room-browsing-hours.
Once you arrive, you will need to follow our COVID-19 safety protocols including:
Wear a mask at all times while inside the Library (with the exception of children under two)  
Utilize the self-checkout machines available in the Main Reading Room and Children's Room
Follow social distancing and maintain at least 6 feet apart from each other and staff
Do not eat or drink in the library.  We highly encourage you to take advantage of the Apiary Café's take out menu!
We highly encourage you to read our full COVID-19 safety procedures and visiting protocols prior to visiting here.  We look forward to seeing you! 
For those that prefer a contactless experience, we will continue to offer curbside pick up and drop off service!